The aim of this content is to provide a brief overview of the process of project evaluations under IPA CBC programmes, implemented in the Western Balkans. The evaluation process of each programme is performed according to PRAG and IPA evaluation guidelines, therefore similar approaches are practiced when a project assessment is undertaken. This part of evaluation is very important as it provides essential output of project impact and value, thus facilitating the decision of supporting a project. As the entire process is interconnected, results of some evaluations conducted on project contracts are explored as to compare its findings with the project objectives and hopefully draw some conclusions.
 Project assessment practice in IPA CBC programmes:
Draft Commission guidelines for 2014-2018 highlight that each type of evaluation has its own strengths and weaknesses and should be adapted to the specific question to be answered. Whenever possible, evaluation should be looked from different angles. Evaluations can provide quantified evidence, judgment, impact or thematic evaluation analyzing parallel aspects of a project: innovation, ICT, SME development, horizontal principles, environment effects, equal opportunities and others.
Project evaluation in IPA CBC programmes includes three phases that of assessment, as presented in the following chart.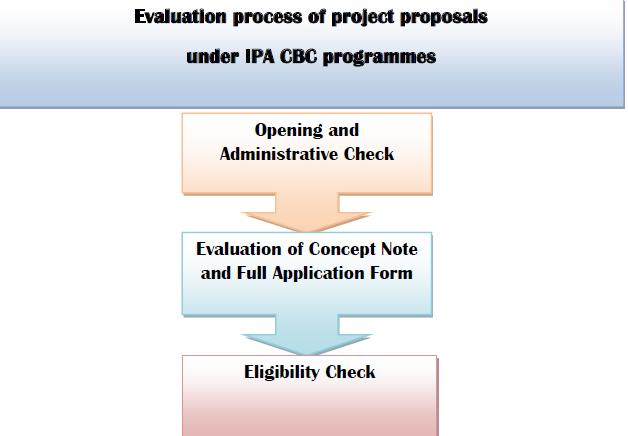 Source: Evaluation process according to PRAG and guidelines of IPA programmes
The evaluation performance is a supported by a series of conditions including grids for technical assessment, selection criteria and methodology for assessment using the logic consistency objective-activity-result. It's important to see if predicted activities are realistic, well defined and justified and whether output indicators are quantified and relevant. The aspect of environment, social and economic development is assessed too. Eligibility of costs, comparison of beneficiary expenditures with market rates, ineligibility expenditures, and arithmetical errors are evaluated too. Quality assessment is based on scoring system. Each criteria group is normally assessed on a basis of several assessment categories, as seen in the following chart.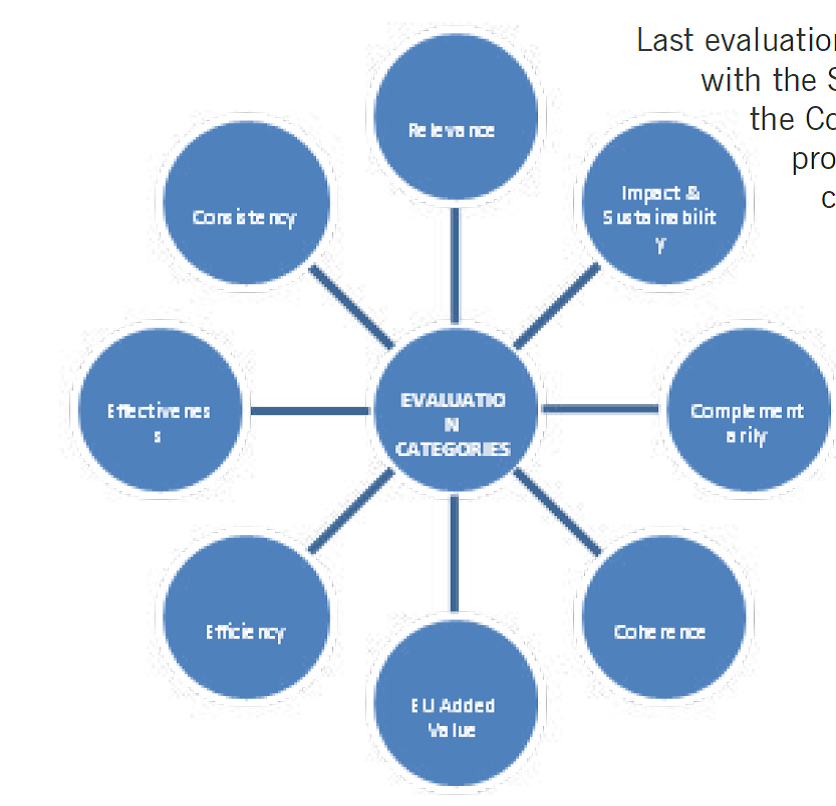 Source: Based on evaluation grids of several IPA CBC programmes
Last evaluation processes include compatibility check with the Strategic Environmental Assessment of the Cooperation Programmes to avoid potential projects which may harm environment components according to the Directive 2001/42/EC.
 The process of quality and technical assessment represents a very important part of the project evaluation as it ensures that the project is relevant to the priorities and measures of the specific programme and whether it fits properly into political, geographical, socio-economic and cultural environments. This is the most objective and fairest part as it refers to the assessment of the viability and the feasibility of the project, its profitability, not only in monetary terms, but in terms of resources used vs. results obtained. According to the Report I- Evaluation of Grant contracts by EIDHR, IPA projects are relevant to the objectives of the programme, resulted with moderate efficiency and showed positive cooperation among communities. Sustainability showed better results in infrastructure projects, impact on economic growth has little significance. Cooperation, exchange of knowledge and networking among partners is visible. Additionally, the findings of the IBF International Consulting showed similar results on project relevance, efficiency at satisfactory level on overall technical and human resource capacities. Results related to project sustainability and impacts are very similar to the first evaluation. Moreover, based on the findings of the Impact Evaluation Report of the Republic of Bulgaria, CBC programmes resulted positively on socio-cultural aspects and moderately on socio-economic aspect. Mayor contribution is achieved in establishment and maintaining of long-term partnerships.
Based on the project evaluations under IPA CBC Programmes the demand-driven and bottom-up approaches with a special focus on cooperation among countries were practiced. Obtained results contributed to enhance factors of growth, improved enterprises competitiveness, improved tools for better protection of the environment and prevention of risk, but without significant contribution on economic and social integration aspect. Main effects of CBC could not be measured as set indicators didn't permit quantitative assessment. Project coherence with different local/national/EU strategies is appreciated. The approach of mutual learning and sharing best practices and models among partners is one of the strongest assets of CBC.
One of the recommendations for the policy makers of IPA CBC programmes will be inclusion of some assessment tools to promote projects that generate relevant strategic durable improvements, specific actions contributing to larger initiatives and strategies, put a special emphasis on result-oriented approach and convergence with regional competitiveness and employment programmes. Whereas, the recommendations for relevant beneficiaries and project partners would be to focus more on project activities that promote sequencing activities and use of already existing sources, with a special focus on innovation, inclusion of ICT and human development platforms constantly in line with local/regional/national/EU strategies.
References:
AETS (2017) "Final Evaluation Report of IPA Cross Border Co-operation Programmes 2007-2013 Contract N°2015/366156/1 FWC COM 2011 – Lot 1 – Studies and Technical Assistance in all Sectors   EuropeAid/129783/C/SER/Multi, financed by EU
Better regulation http://ec.europa.eu/smart-regulation/guidelines/tool_36_en.htm (retrieved on 21/08/2017)
Bulgarian Consultancy Organization Ltd. (2016) "Impact Evaluation Report" of the IPA Cross-border Programmes 2007-2013
European Commission IPA II 2014-2020 "Multi-Country Disaster Risk Assessment and Mapping"
European Regional Development Fund and Cohesion Fund "Concepts and Ideas – Monitoring and Evaluation in the practice of European Cohesion Policy 2014"
IBF International Consulting (2014) "Report I- Evaluation of grant contracts implemented and financed by IPA and EIDHR"
INTERACT, Project evaluation and selection manual 2007-2013
INTERREG BALKAN-MEDITERRANEAN PROGRAMME "Project implementation Manual", and "Project Selection Criteria" 2014-2020
intERREG-IPA CBC Programmes Manual, Annex 4.2 – Assessment Working Group Rules, 2016
Ministry of Regional Development and EU Funds,       Republic of Croatia (2012) "Evaluation strategy for European Structural Funds"
Particip (2017) "Evaluation of the Instrument for Pre-Accession Assistance (IPA II)"